Trendy vs Traditional
Open floor plans have been around for a while now and chances are you've ever worked within one or have visited a business that utilizes this style of operating. The rise came about when the trendy tech giants in silicon valley began releasing images of their brightly colored offices featuring collaborative environments, bean bags instead of chairs for meetings, and fancy cafeterias with a wide variety of imported coffee and nationally recognized craft beer.
It was a stark contrast to the office spaces of the '80s which were tall, bunker-styled business cubicles consisting of a more drab color combination. Employees were isolated from one another and oftentimes you worked alone unless someone visited your cubicle personally or you headed to a meeting in a closed-off conference room. Although cubicles have been updated and come in a wide variety of styles and colors, their pain points remain the same.
Both of these office environments work and depending on the business you operate one may be a better option than the other. Let's take a deeper dive into the pros and cons of each of these floor plans and what impact they may have on the workforce.
The Open Floor Plan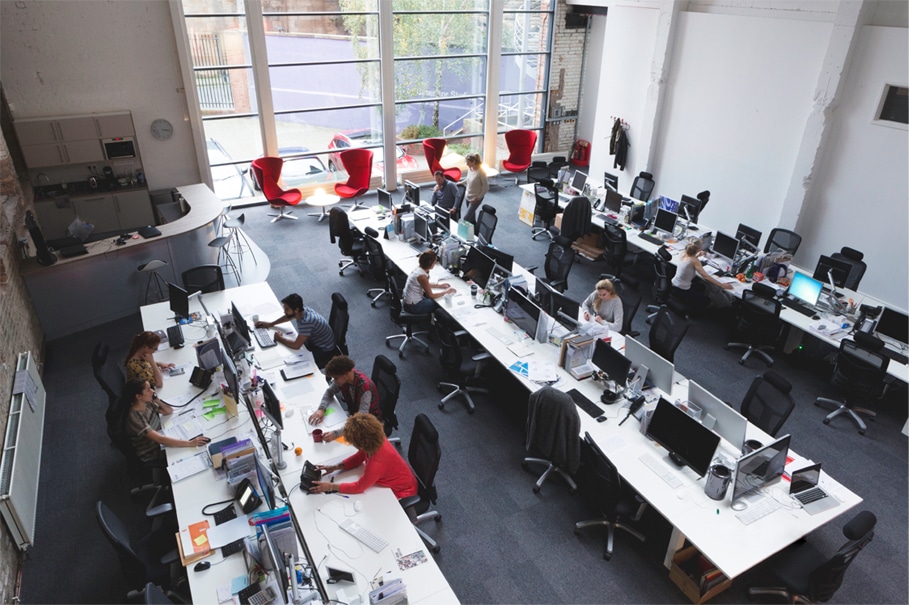 The Pros
Communication – Open floor plans are a great option for creative teams as collaboration is imperative to the success of projects. The ability to quickly compare drawings or gather feedback on a video for example can increase the productivity of those within the team.
Flexibility – Businesses constantly change which could bring new employees aboard or result in the unfortunate circumstance of walking someone out the door. Open floorplans 
Cost – Square footage is one of the most expensive parts of operating a business. When you tack on the additional costs of a cubicle system – things can get expensive quickly. Typically the average cost of a standard cubicle will cost you approximately $1,500 but if you start purchasing filing cabinets, electrical sockets, block units, and upgrades such as better fabric or real wood the cost can get as high as $13,000 if not more. That doesn't even include installation. In an open floor plan, more often than not, you're purchasing a simple table/desk with a chair and the cost drops considerably.
Transparent Culture – When you put everyone out in the open, there is no hiding who they are as individuals and how they interact with one another. Without walls between one another, the culture of the workplace becomes immediately transparent. What you see is what you get.
Viewed as equals – Oftentimes in an organization that utilizes open layouts, the managers and even executives sit side-by-side with their employees and peers. This can contribute to a feeling of being equal and your tasks being just as important.
Aesthetically Pleasing – When you walk into the office you'll be greeted by brighter environments, open spaces, and have the ability to take in the business as a whole. There are no tall cubicle walls blocking your ability to see the art on the walls or the employee watching YouTube on their break. Desks are often kept cleaner as they are always on display and lack the ability to pin documents, name tags, and calendars to the wall.
The Cons
Lack of privacy – Some managers view productivity as the ability an employee has to stay busy at all times. The unfortunate reality is that studies have shown open floor plans actually decrease productivity.  Additionally, they can make employees feel angry, uncomfortable, and contribute to negative feelings about their work environment.
Distractions – Did you know that 4.4% of adults have ADHD? Focusing on the task at hand is difficult when you can see what everyone else is doing at all times. Anyone that can be easily distracted, whether its due to a medical diagnosis or its simply their need to be social, may suffer greatly.
Anxiety – You know that feeling where you feel like you're being watched? Well whether you catch the fleeting glance of a coworker or if you're in the office alone, sometimes you can get an anxious feeling that you're constantly being monitored. This can add additional stress to your day and lead to turnover.
Increased Health Risks – COVID-19 has made this more prevalent than ever but without the physical barriers created by cubicles, your office is more susceptible to illness. Additionally, open plans mean teams are typically sitting closer together due to the floorplan design and collaborative benefit. The combination of proximity to one another and lack of physical barriers can wreak havoc on your business during flu and cold seasons or pandemics.