The World's Best Pizza Cutter® is amazing. It can do it all. It can cut pizza, vegetables,
brownies, quesadillas, play dough… and the list keeps going! This patented ergonomic
design has a circular blade that is easy to remove for cleaning and is safe for everyone
to use! With a wide selection of handle colors and imprint methods to choose from,
your company's image can be a staple in any kitchen. 87% of consumers make buying
decisions while at home, so put your brand where it will be seen. Be sure to check out
the other blade option with our Mi1017 The World's Best Kitchen Cutter®. This
mezzaluna blade combines all the same great features as the Mi1036, but the blade is
designed for a rocking motion. It is great for vegetables, bars and much more! Both
are best sellers and will get your brand in the hand of your customers.
Practical Products. Premium Exposure.
Made in USA
Patented design: Pat. US D652,271
Blade is safe for everyone to use. It will cut most everything but will never cut you!
Easy blade removal makes this exceptional cutting device a breeze to clean!
Top rack dishwasher safe
FDA compliant removable plastic blade
Individually polybagged with instructions
Best Seller and Exclusive to Fey Promo!
Made in USA in a QCA Accredited Facility
Product Size: 4-3/16″H x 4-1/2″W x 1″D
Mi1036 The World's Best Pizza Cutter®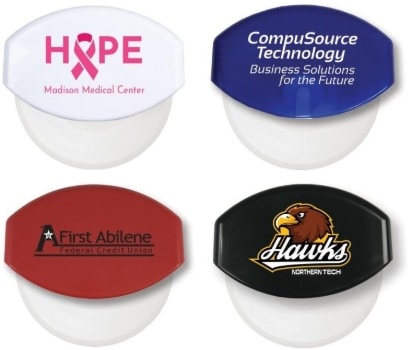 Mi1017 The World's Best Kitchen Cutter®