Conveyors do pretty much what their name implies; they mechanically convey goods and materials from one point to another. A simple conveyor might move chocolates from dipping to boxing, allowing employees the chance to inspect them along the way. But conveyor systems can also be quite complicated and elaborate, like those found in massive distribution warehouses where boxes travel miles of conveyor belts to get from the picking location to their loading bay.
Whether the system is complex or straightforward, conveyors provide several critical benefits to business owners, including the following:
Quick and efficient movement of materials within a given space.
Minimization of human error
Lowered risks of injuries in the workplace
Reduced labor costs
Ergonomic method for moving heavy or bulky items
Simplification of transporting items between levels or across large areas
Indoff is a supplier of complete conveyor system solutions for businesses in a wide range of industries. If you've got a conveyance project you're considering, contact an Indoff sales representative today to get started.
Let's look at the important elements of conveyors and conveyor systems.
How Do Conveyors Work?
A basic conveyor involves a belt stretched between a minimum of two pulleys. The conveyor belts you use at the grocery store are a good example. The belt is a closed loop; when the pulleys rotate, the belt rotates as well in one continuous movement. The drive pulley pulls the belt and is powered by a motor.
Now, let's take the idea of a belt controlled by two rotating pulleys and make some modifications to serve different purposes. Here are just a few examples:
Gravity Conveyor. A gravity conveyor moves goods one way – downhill. There's no motor involved; the force of gravity causes the belt to travel downwards on a track of wheels.
Chute Conveyor. A chute conveyor is basically a metal slide that takes your goods from up high to someplace lower.
Powered Roller Conveyor. The powered rollers allow items to travel flat or even uphill. A good example of this type is the conveyors at the airport that take your carry-on items through security.
Slat Conveyor. A slat conveyor looks a bit like the treads on a tank. Items are moved along a series of flat slats connected to a chain underneath. The chain is the belt of the operation; it's a continuous loop rotated by pulleys. The slats simply offer a flat, stable surface for items to rest on while moving. Chain conveyors are strong and are often part of industrial solutions.
Belt Conveyor options. Belt conveyors can be troughed to keep items from falling off the edges, or they might vibrate to encourage small materials to move along gently.
Magnetic Conveyor. Rather than using pulleys to move a belt, a magnetic conveyor moves metal objects along a flat, stable surface by pulling them along with movable magnets located underneath the surface.
Each type of conveyor fills a specific purpose. Airports use conveyors to move luggage and moving sidewalks – another type of conveyor – to move people. Warehouses use conveyors on belts and rollers to move products and raw materials. Ski lifts are conveyors that use chains and pulleys to move skiers up the mountainside. Conveyors come in all shapes, sizes, and configurations that all share a few essential elements.
Essential Elements of Conveyors
True conveyors share three essential elements:
The belt and belt support. The belt and belt support provide a firm, tight, smooth surface for objects to move along.
The pulleys. Every system has at least two, one at one end that's powered by the drive unit and one that's idle. All pulleys must rotate in the same direction to move the belt. More complex systems will have rotors along the frame to facilitate smooth movement.
The drive unit. Some drive units are motorized and others are manual, but they all let the operator choose the direction and speed of the pulley movement.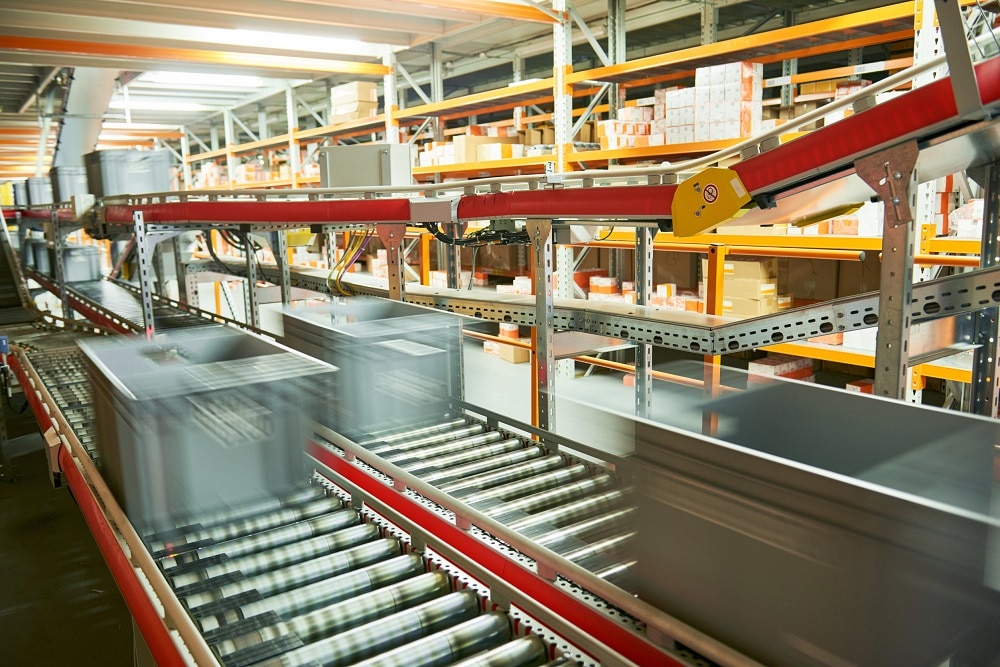 Which Conveyor System is Right for You?
As you might imagine, conveyor options are almost endless. What factors do you need to consider when making a choice?
Product Dimensions. Your conveyor system will move products, so the nature of the product is a significant consideration. The conveyor needs to safely accommodate the maximum possible weight and dimensions of the product at every step along the route.
Material. Certain conveyors work better with certain materials. For example, chain-driven rollers are effective on heavy wooden pallets.
Fragility. Is your product fragile? If so, the conveyor will need to handle the product carefully without tipping or dropping.
Distance. How far does the material need to be moved?
Positioning. Does the product need to be positioned in a specific way? Many things can dictate the positioning requirements, including the fragility of the items or a need for a barcode to be scanned.
Path. What route do your items need to travel? Will the system need to accommodate curves or elevation changes?
Speed. How fast or slow do you want the system to go? Will it move steadily or stop and start?
Flow. What volume of products and materials do you need your conveyor system to handle on a daily, weekly, and monthly basis?
Space. How much space do you have to accommodate a conveyor system? What is the environment like? For example, is it dry and cool or is it open to the elements?
Transfers. When the material is placed on or removed from a conveyor, that's called a transfer. You'll want to think carefully about what will happen to items at all transfer points to ensure the system is designed correctly.
Cost. If you're a large organization, manual conveyance will never be a cost-effective solution. The right conveyor system will move materials more efficiently and prevent losses from product damage or worker injuries. Small to midsize operations need to weigh their options carefully to determine if investing in a conveyor system is the right move over the long term.
Indoff Has the Answers
If you've got questions about how conveyors might boost your productivity and your bottom line, contact Indoff today. Our materials handling partners are ready to learn about your business and your goals and get you started on designing or upgrading a conveyor system for your operations. Choose Indoff to keep things moving.